Main Line Trenchless Replacement (Pipe Bursting)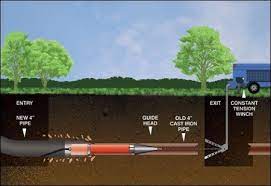 Different Ways to Use Trenchless
Unlike traditional methods that require an extensive amount digging and have a long installation process, trenchless methods generally abide by one main concept: minimal digging!
There are a variety of ways that trenchless methods can be applied, depending on the damaged pipe in question or unique repair needs.
Below are five different ways that trenchless water line replacement can help save both your home and your money.
1.) CIPP
Cured-in-place pipe is used primarily for boosting the strength of pre-existing pipes. This method of trenchless involves simply relining the pipe using a seamless, PVC-infused liner that fills in the existing holes and cracks.
Before the liner is applied, Express uses a process called hydro-jetting to clean the pipe in its entirety. Once the liner is placed, it is sealed using highly pressurized steam. This method is best used for minor pipe damage, because the pipe needs to be durable enough to withstand the lining process.
2.) Pipe Bursting
This trenchless process is best used for replacing an entire water or sewer pipe. It involves using a spear-shaped tool called a "bursting head," which is attached to the opposite end of a replacement pipe and fed through the deteriorated pipe via cable.
It is called pipe bursting because the cone-shaped head bursts the existing pipe into pieces from within, while laying the new pipe in a single, seamless process. For a more thorough understanding of the pipe bursting process and when it is used, click here.
3.) Pipe Replacement
Like standard pipe lining, this form of trenchless repair utilizes CIPP, as well. The replacement process begins when repair technicians insert a small cable machine into the pipe being replacing. Attached to the machine is a smaller pipe, which is then dragged through the old pipe, sealed in-place and functions within the old pipe.
This method is ideal for extremely old or decayed pipes that are unable to be lined.
4.) Pull-in-Place Lining
This method is similar to pipe bursting, in that it only requires two small holes to be dug. The new liner is pulled through the pipe using a wench and is steam-sealed. Like CIPP, the pipe must be durable enough to withstand this process.
Pull-in-place lining is used to cure small pipe imperfections and add strength; however, it does not replace the pipe's structure entirely.
5.) Inversion Lining
Another way to add durability and fill in any cracks or spacing in a pipe is using inversion lining. In inversion lining, the liner material is made of a felt tube and put/pulled into place like the previously mentioned trenchless methods.
Should you go Trenchless?
Trenchless repair methods go beyond just repairing and replacing pipes; they can also be used to prevent future pipe damages. Realistically, no one enjoys water invading their homes and damaging their property. Repairing damaged pipes using traditional methods can get pricey and use an extensive amount of resources. Going trenchless is not just affordable – it's also preventative.